Take Control Over Large Areas
There has never been a more effective, convenient method for preventing mosquito bites in your yard. Our Permanent Mosquito Control System works automatically and is virtually maintenance free. You'll never again have to spray your kids with messy repellents or remember to fog your yard before an evening cookout.
The Our Permanent Mosquito Control System system sprays a very fine mist of botanical insecticide through nozzles installed around the perimeter of your property. The mist settles on the grass and landscaping, killing any mosquito that comes in contact with it. The system is programmed to automatically spray at dusk and dawn when mosquitoes are most active and other, more beneficial insects, such as bees and butterflies, are not.
The MistAwayİ system also kills or repels other unwanted pests, like spiders, flies, gnats and no-see-ums. Our insecticide's primary ingredients, derived from chrysanthemum flowers, are called pyrethrins.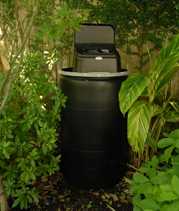 The Gen 1.3 from Our Permanent Mosquito Control System is an attractive, state of the art misting system. This misting system is friendlier to consumers and offers more flexibility and control over the products that are misted. It is small and lightweight and can easily be placed anywhere in your yard that is convenient to a hose bib and electrical outlet.